09 Mar

THE PERUVIAN STATE MUST GUARANTEE THE SAFETY OF NÉLIDA AYAY CHILÓN, A HUMAN RIGHTS DEFENDER
An urgent call has been launched from civil society organizations to the Peruvian State to guarantee the safety of indigenous women and small-scale women farmers who are human rights defenders.
● The State must respect, protect, and ensure the right that indigenous women and Quechua-speaking small-scale women farmers have to participate in their cultural life. The State must also refrain from adopting measures or decisions that continue perpetrating the structural discrimination these women experience.   
The undersigned organizations express our concern regarding the situation faced by human rights defenders Nélida Ayay Chilón and María Elena Yparraguirre Alegría from the Cajamarca Regional Academy of the Quechua Language (ARIQC) facing eviction from their facilities since the Provincial Municipality of Cajamarca subjectively and without any legal foundation decided not to renew their leasing contract without considering the improvements made by ARIQC to the building that serves as their headquarters.
We express our solidarity and support to our ARIQC sisters and issue a special call to the State to address the situation of risk faced by Nélida Ayay Chilón in the context of practices that curtail her work of defending and promoting human rights in Peru..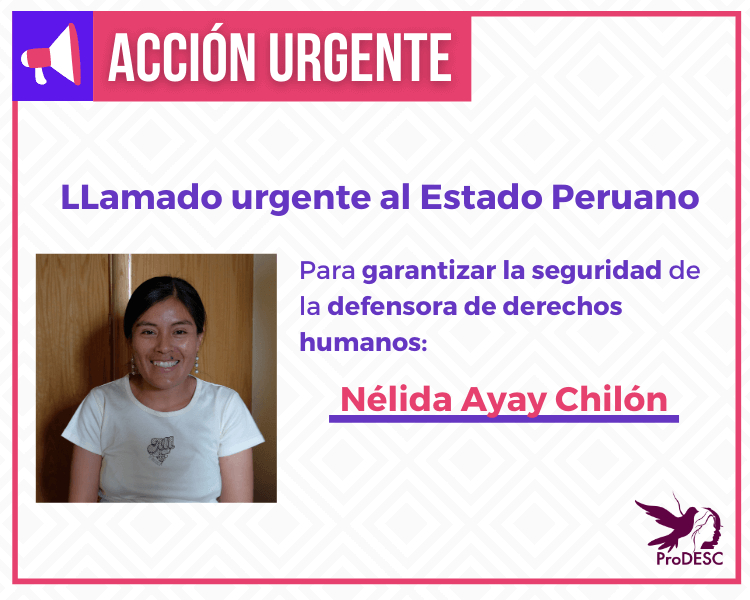 Nélida is a lawyer, a small-scale farmer, an indigenous Quechua-speaker, and well-known territorial and environmental defender in Cajamarca, Peru. Since 2012, she began a legal procedure to defend the environment against the Conga project launched by the Yanacocha mining company, owned by Newmont, a US corporation. Her work led her to defend Mount Quilish, considered sacred territory. In 2015, her defense activity was projected world-wide through the documentary entitled "La Hija de la Laguna" (Daughter of the Lake), which won multiple awards. Her work as an environmental defender led her to study Law. Since then, her work as a human rights defender has cost her numberless threats and acts of intimidation.
For the above reasons, we call upon the Peruvian authorities -within the framework of their respective capabilities- to do the following:
Publicly recognize the work carried out by these two human rights defenders, Nélida and María Elena, as well as provide visibility regarding the work they have been carrying out in order to preserve the Quechua language through the Cajamarca Regional Academy of the Quechua Language.
Adopt the necessary measures to guarantee not only Nélida Ayay Chilón's safety, but also her physical and psychological integrity as a defender.
Comply with its obligation to respect, protect, and guarantee everybody's right to participate in cultural life under the principles of availability, accessibility, acceptability, and adaptability established under Article 15, paragraph 1 a) of the International Covenant on Economic, Social, and Cultural Rights, an international treaty ratified by the Peruvian State.
Recommend and adopt measures and inclusive public policies that promote the participation of women who are indigenous, small-scale farmers, and Quechua speakers, as well as refrain from adopting measures or making decisions that continue to perpetrate structural discrimination against indigenous women in Peru.
Initiate research that tends to supervise the authorities' respect and guarantee at all times of the human rights that the ARIQC sisters are entitled to as cultural rights defenders.
Click here to read the full statement: